HERRING SALE on December 5th 2020
Be a Volunteer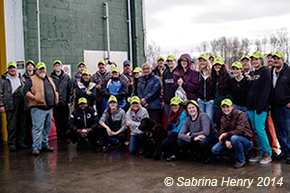 We always have room for another volun- teer and there is a wide variety of jobs. If you can run a wheelbarrow to carry a few bags of herring, take tickets from customers, or welcome customers and volunteers with a smile, we have a job for you.
The Steveston Herring Sale info:
WE ARE SOLD OUT
12820 Trites Rd, Richmond BC
Due to Covid-19, tickets will be sold on-line and the pick-up will be drive-thru.
$20 per bag (approximately 20lbs)
All sales are final. Tickets are non-transferable.
Each one-hour time slot is a separate sale so picking up your fish will be fast.
8am - 9am
9am - 10am
10am - 11am
11am - 12pm
12pm - 1pm
1pm - 2pm
2pm - 3pm
3pm - 4pm
The 2015 Herring Sale Video
Thanks to all our generous sponsors, hard-working volunteers and loyal customers for another hugely successful herring sale! Last year we raised $126,00 for a total of over $650,000 since we started in 2011 for kids who are being treated for cancer at BC Children's Hospital.
OUR HISTORY
The 2013 Herring Sale Video
This Video shows a behind the scenes look at some of the dedicated Volunteers and Sponsors who helped make the "2013 Fishermen Helping Kids with Cancer Herring Sale" such a Huge Success...
The 2012 Herring Sale Video
The 2012 herring sale raised $70,958 to help kids with cancer at BC Children's Hospital. Thanks to all the volunteers and sponsors for making this year's sale such a huge success.
The 2011 Herring Sale Video
In 2011, Fishermen Helping Kids with Cancer held their first annual charity herring sale. As the video shows, it was such a big success that it became an annual event.