Be a Volunteer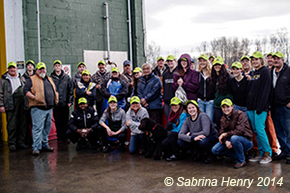 We always have room for another volun- teer and there is a wide variety of jobs. If you can run a wheelbarrow to carry a few bags of herring, take tickets from customers, or welcome customers and volunteers with a smile, we have a job for you.
The Steveston Herring Sale info:
12820 Trites Rd, Richmond BC
Tickets will be sold on-line and the pick-up will be drive-thru.
$20 per bag (approximately 20lbs)
All sales are final.
Tickets are non-transferable.
Each one-hour time slot is a separate sale so picking up your fish will be fast.
The 2015 Herring Sale Video
Thanks to all our generous sponsors, hard-working volunteers and loyal customers for another hugely successful herring sale! Last year we raised $126,00 for a total of over $650,000 since we started in 2011 for kids who are being treated for cancer at BC Children's Hospital.